Regular price
$0.00
Sale price
$17.77
Unit price
per
Bulk price
Sold out
Bulk pricing available
About this item
Includes a lift-off lid.
Interior dimensions 13" long x 3 1/2" wide x 3 1/2" high.
Exterior dimensions 14 1/2" long x 4 1/4" wide x 3 7/8" high.
With lid exterior 4 1/4" high, interior 3 1/8" high.
Authentic open-slat style hand-crafted solid wood crates with old-world charm.
Ideal for gift baskets and product packaging.
Subtle details, including sturdy construction and a refined sawtooth surface texture, deliver timeless style and utility.
The carefully selected wood, chosen for its strength and striking grain pattern, reflects our pride in craftsmanship.
Made in USA
View full details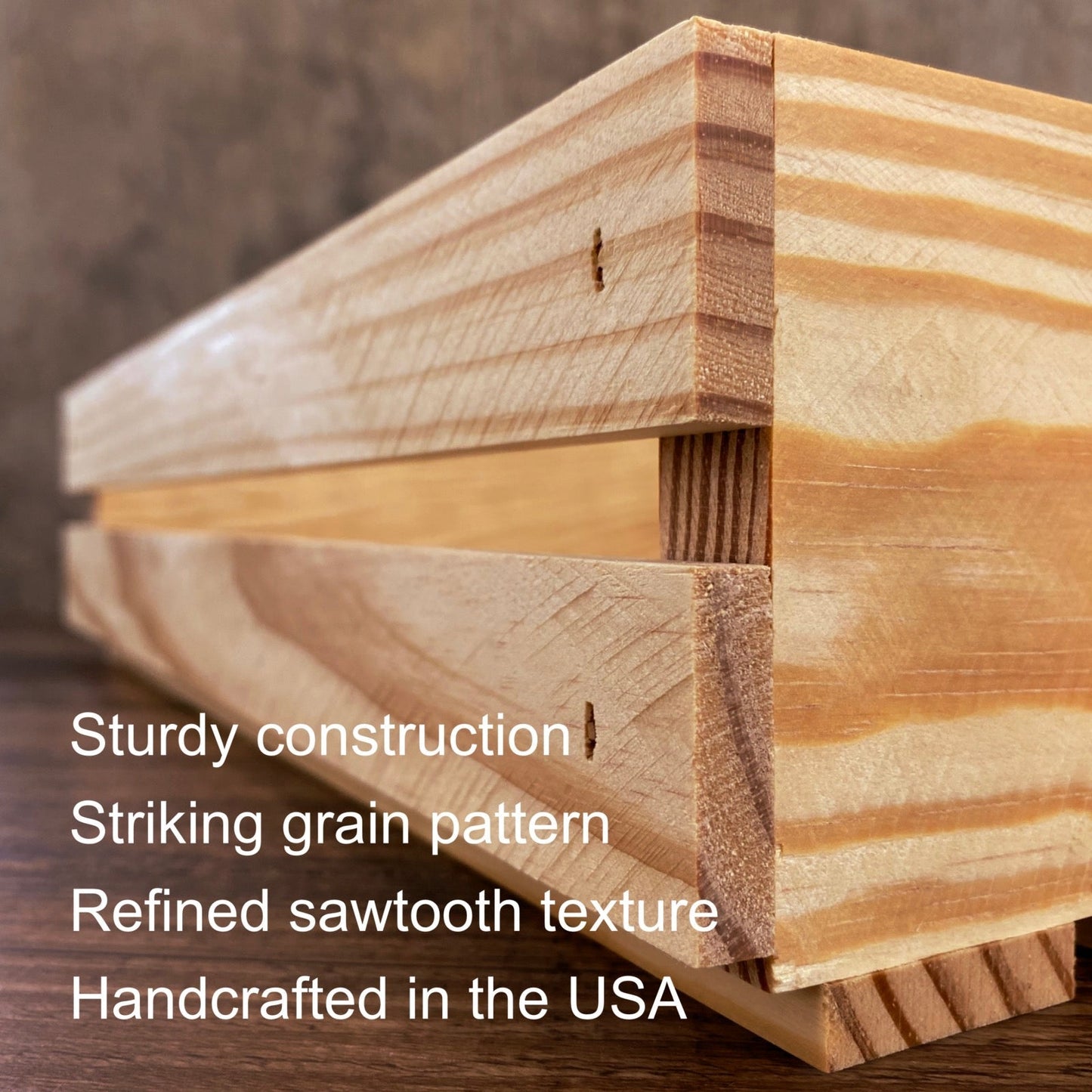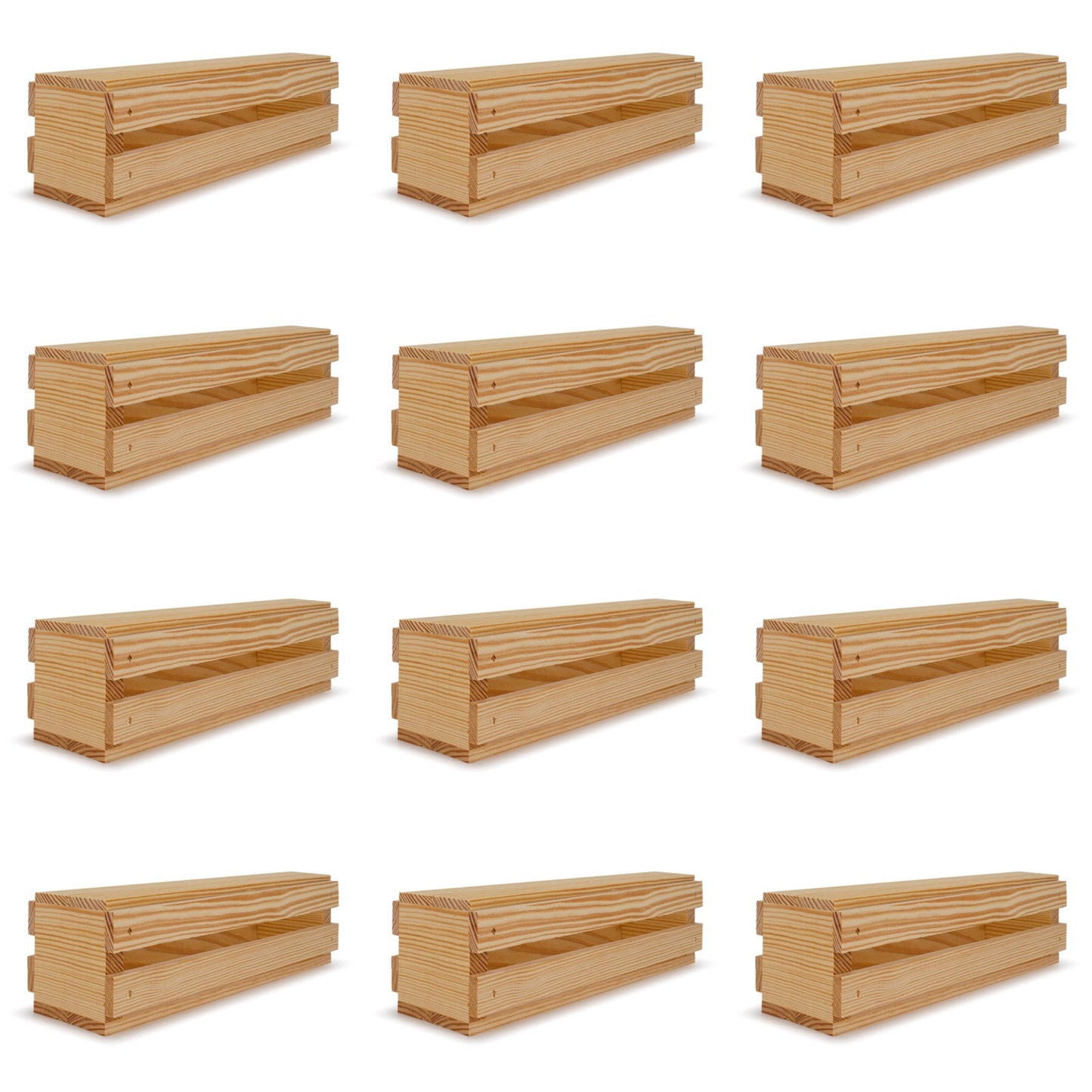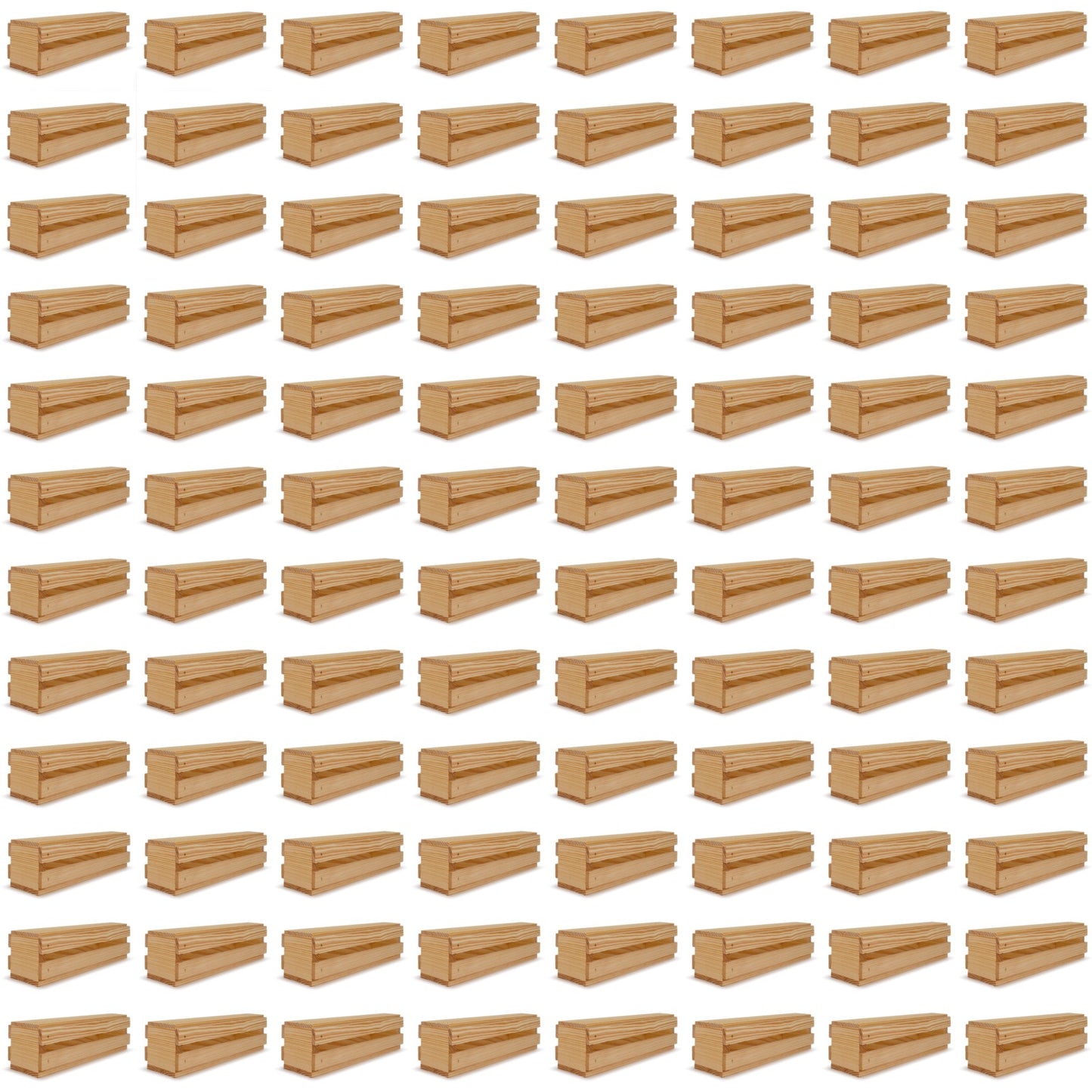 More information
Material

Fabricated from select grade southern pine culled for aesthetic appearance and structural integrity.
Construction

Features full ⅜-inch thick side slats with ¾-inch thick end panels securely glued and nailed at all stress points.
Finish

Natural untreated wood that looks great as-is or will readily accept your paint, stain, or sealer for bare wood surfaces.
Country of origin

Sourced, fabricated, and assembled in the USA.
Care and cleaning

Wipe clean with a dry cloth. Mars can be removed from the surface by using a white eraser. Those with a natural unfinished wood surface may also be lightly sanded.
Sustainability

Carpenter Core embraces the common sense approach to sustainability practiced by past generations. Our forefathers lived the concept of reduce, reuse, and repurpose long before they became marketing buzzwords. This is how we do it.

Reusable design - The nature of Carpenter Core products incentivize the end user to reuse or repurpose them as keepsake storage containers, reducing the pressure on our waste disposal and recycling infrastructure.
Responsibly sourced raw material - The southern pine timber Carpenter Core products are made of is locally sourced in our geographic region. It grows in abundance and is responsibly farmed, making it naturally renewable.
Minimal processing - Carpenter Core products are made of solid wood. Unlike plywood, particle board, paper, plastic, and cardboard, there is no raw material processing. This minimizes energy consumption, the introduction of chemical additives, and the resulting environmental consequences.
Zero impact packaging - Carpenter Core products are sold without consumer packaging and are shipped in boxes with no plastic or needless filler, eliminating the need for landfill disposal by the end user.
Responsible transport - Our products are only made available in the contiguous United States, eliminating the need for overseas transport via sea or air. Everything is shipped in bulk using the most efficient UPS Ground system, minimizing the impact of transport on our environment.
Naturally biodegradable - Being made of solid wood with no chemical additives, our products are naturally biodegradable. At the end of their useful lifecycle, they return harmlessly to the soil they came from.
Guarantee

Carpenter Core offers a comprehensive lifetime warranty on all of our products for indoor non-commercial use against structural integrity throughout the product's lifetime that is valid for the original customer.

Unless otherwise stated, our products are not intended to withstand user abuse or outdoor exposure. We do not warrant product finishes including natural, stain, paint, clear coat, or other finishes.

We care about your satisfaction. Should you experience any issue, simply contact us to make it right.
Shipping and returns

Shipping

We ship orders within ten business days, much sooner in most cases. The default transport method is UPS Ground, which arrives in one to five days, depending on the distance from our location in North Alabama. Please feel free to reach out to us if you have any particular questions or concerns.

Refunds

We do not accept the return of customized or personalized products unless they arrive damaged or defective. If your purchase does not meet your expectations for any other reason, you may return it for a refund of the purchase price. In any case, please get in touch immediately if you have concerns about any products received from us. We will do everything we can to make your experience a positive one.
Custom quote

Carpenter Core has a growing selection of wooden crate and box types, sizes, styles, and finishes, but also understands that's not always enough. With decades of experience in design development and fabrication, there's a good chance we can propose a quick and affordable solution based on your specific needs.
Jessy Long

Excellent Customer Service - Exceptional Product Responded to an inquiry I sent within an hour on a Sunday night. Quality of the crates we ordered is exceptional.

John Pugh

Excellence defined Excellent product. Excellent customer service. Excellent price.

Cara Cohen

Excellent quality wooden crates perfect for our Holiday gift baskets. Great pricing. Quick turnaround. Immediate response from owner regarding our next order. Thank you!

Aaron

Quick response and easy to work with Alan was quick to respond with my request and was super easy to work with. The crates we ordered for our Holiday gifts came out really nice with the heat branding! Would definitely buy from them again!

Rosemary Petriello

Excellent Experience … Alan patiently answered all of my questions and guided me through the creative and ordering processes. Once I placed my order it arrived very quickly and I received several emails updating me on the status of my order and it's delivery. I couldn't be more pleased with this experience.

Elizabeth Reid

Carpenter Core Delivers QUALITY This is my second order from Carpenter Core and, again, they delivered on time and on cost! They even made some super suggestions that I had not thought of that dramatically improved the gift crates I ordered!

Mindy

Third Times a Charm! This is the third time I have ordered from Carpenter Core. The quality is always excellent. Production and shipping are always very timely as well.

Tori B

Awesome experience working with Alan at Carpenter Core. Really appreciate his attention to detail and willingness to go the extra mile. Look forward to working with this company again in the future.
Why small wooden crates from Carpenter Core?
Makes a better presentation

Showcase your products or gifts in a way that increases perceived value and sets them apart from off-the-shelf solutions.

Enhances your image 

Elevate your brand image and make a lasting impression. Often takes on a second life as a keepsake storage container delivering your message for years to come.

Saves time and effort

Professional assistance, custom options, and fast turnaround times to achieve your desired vision without being bogged down searching for a solution.

Handcrafted in USA

Make a statement about your commitment to excellence and sustainability. Made to order by skilled carpenters from locally sourced timber.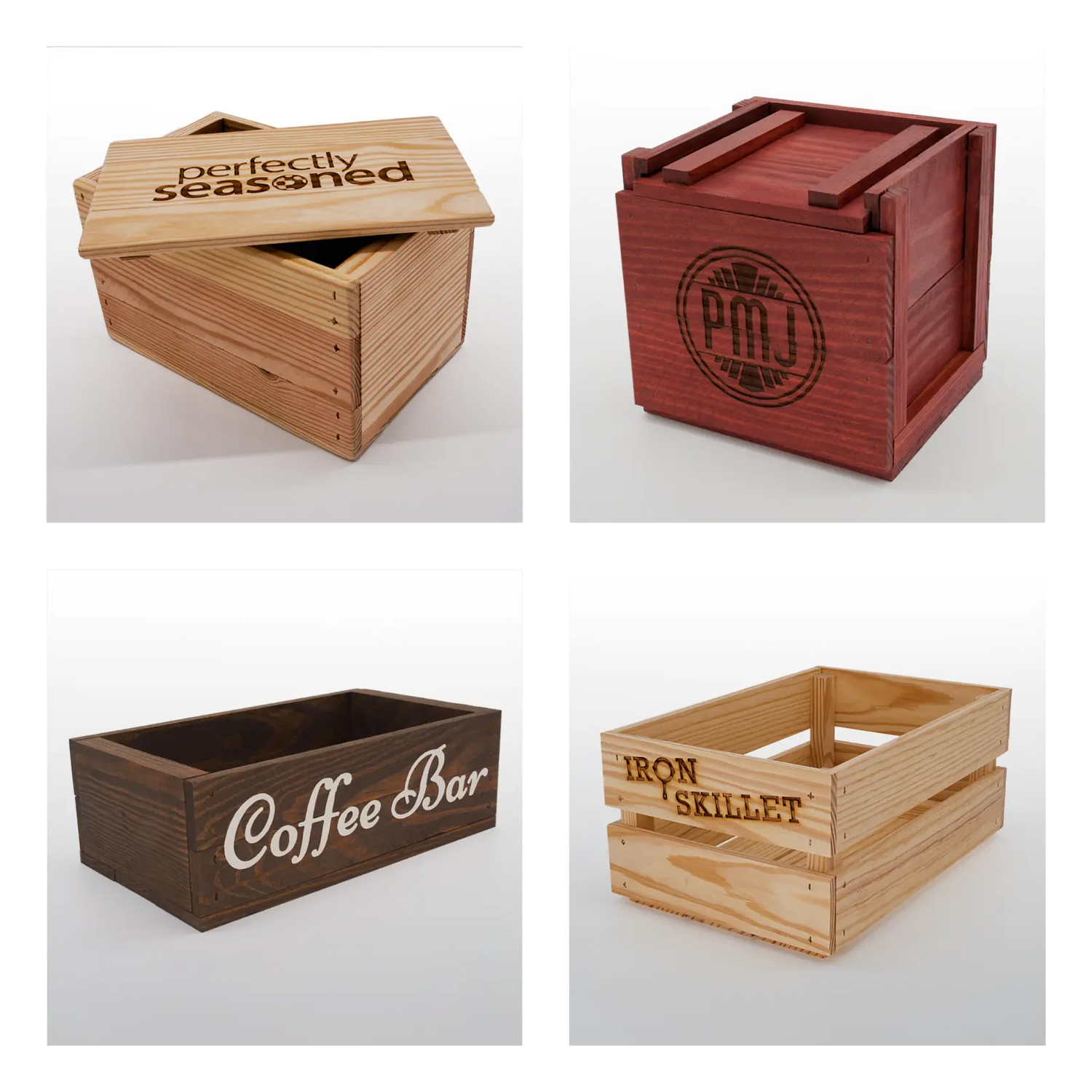 Request custom quote
We design and fabricate a lot of custom wood boxes and crates so your special requests are always welcome.
Request quote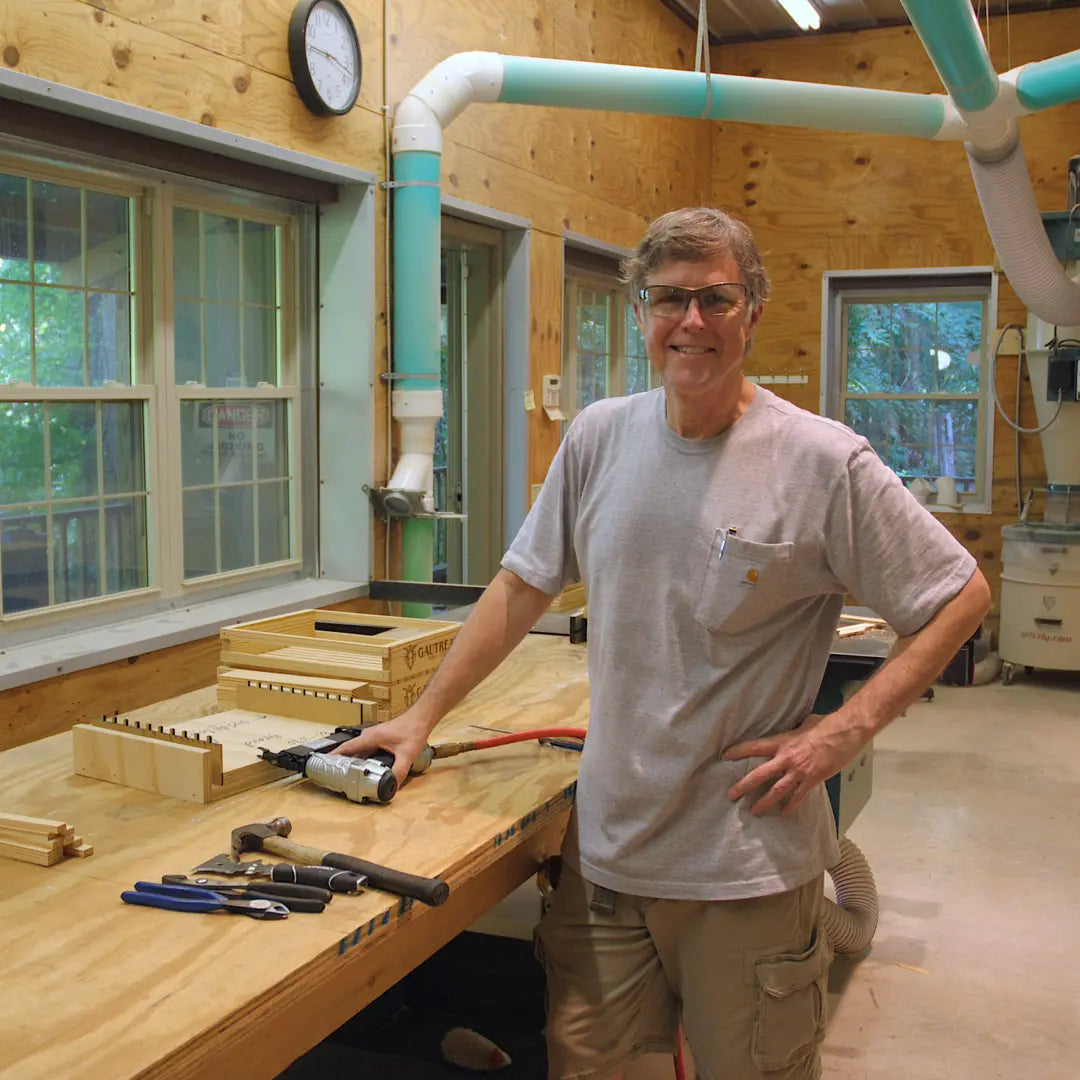 About Carpenter Core
Carpenter Core was founded by Alan Derrick, a skilled artisan with an eye for timeless old-world craftsmanship and personalized customer service. Following years of experience in the arts, home furnishings, and construction trades, he noticed how corporate clients loved using old-style wooden crates and boxes as containers for gift giving and product packaging. They seemed to appreciate how each one was handcrafted in the USA from locally sourced timber elevating their brand image. Online ordering was added as a way to make purchasing and fulfillment a quick and easy process.